---
Illinois Community College District No. 518
Main Campus
2400 Tom L. Wilson Blvd.
Galesburg, IL 61401
Phone 309.344.2518
Fax 309.344.3526
Branch Campus
The Branch Campus is located on the north edge of Carthage, just off Highway 94. This location serves the communities, businesses, organizations, and school districts of Hancock county and portions of Fulton, Henderson, and McDonough counties in western Illinois. The full-service campus provides baccalaureate, career, community education, and general study programs. Some popular career and technical classes offered at the Branch Campus include criminal justice, accounting, business, nurse aide, phlebotomy, and administrative office programs.
Students receive individualized attention for academic advising, career counseling, and financial aid planning in a relaxed, friendly educational atmosphere. Tutoring and support services are also available. Additional offerings include seminars, workshops, and customized training for businesses and industry.

305 Sandburg Dr.
Carthage, Illinois 62321
Phone: 217.357.3129
Fax: 217.357.3512
TTY line: 309.341.5400
Additional Locations
ANNEX
Located in downtown Galesburg, the Annex houses the College's dental hygiene program.
209 East Main St.
Galesburg, IL 61401
Phone: 309.344.2595
Fax: 309.344.2611
TTY line: 309.341.5400
Abingdon-Avon High School (Dual Credit Only)
Located in Abingdon, Illinois, Abingdon-Avon High School offers a complete Associate in Arts degree through dual credit courses.
600 West Martin St.
Abingdon, IL 61410
Galesburg High School (Dual Credit Only)
Located in Galesburg, Illinois, Galesburg High School offers a certificate in Computer Numerical Control (CNC).
1135 West Fremont St.
Galesburg, IL 61401
Hamilton High School (Dual Credit Only)
Located in Hamilton, Illinois, Hamilton High School offers transferable courses towards either an Associate in Arts or Associate in Science degree, as well as, allied health and automotive courses and a certificate in agriculture.
1100 Keokuk St.
Hamilton, IL 62341
Warsaw High School (Dual Credit Only)
Located in Warsaw, Illinois, Warsaw High School offers transferable courses towards either an Associate in Arts or Associate in Science degree. With additional online and summer coursework, students may complete an Associate of Arts degree during their high school career.
340 South 11th St.
Warsaw, IL 62379
Accredited By
Higher Learning Commission
Phone 312.263.0456/800.621.7400
http://www.hlcommision.org
Approved By
Illinois Board of Higher Education; Illinois Community College Board; Illinois Department of Financial and Professional Regulation; Illinois State Scholarship Commission; United States Department of Education.
Program Accreditation:
American Board of Funeral Service Education
816.233.3747
http://www.abfse.org
The Commission on Dental Accreditation
312.440.4653
http:///www.adha.org/en/coda
Illinois State Board of Nursing Approved Program
312.814.4500
http://www.idfpr.com
Nursing Accreditation
Associate Degree Nursing
The Associate Degree Nursing program at Carl Sandburg College located in Galesburg, Illinois, is accredited by the: Accreditation Commission for Education in Nursing (ACEN)
3390 Peachtree Road NE, Suite 1400 Atlanta, GA 30326
(404) 975-5000
The most recent accreditation decision made by the ACEN Board of Commissioners for the Associate Degree Nursing program is Continuing Accreditation.
View the public information disclosed by the ACEN regarding this program at http://www.acenursing.us/accreditedprograms/programSearch.htm
Practical Nursing
The Practical Nursing program at Carl Sandburg College located in Galesburg, Illinois, is accredited by the: Accreditation Commission for Education in Nursing (ACEN)
3390 Peachtree Road NE, Suite 1400 Atlanta, GA 30326
(404) 975-5000
The most recent accreditation decision made by the ACEN Board of Commissioners for the Practical Nursing program is Continuing Accreditation.
View the public information disclosed by the ACEN regarding this program at http://www.acenursing.us/accreditedprograms/programSearch.htm
Paramedic Program Accreditation
The Carl Sandburg College Paramedic Program is accredited by the Commission on Accreditation of Allied Health Education Programs upon the recommendation of the Committee on Accreditation of Educational Programs for the Emergency Medical Services Professions (CoAEMSP).

Commission on Accreditation of Allied Health Education Programs
9355 - 113th St. N, #7709
Seminole, FL 33775
727-210-2350
www.caahep.org

Committee on Accreditation for the EMS Professions
8301 Lakeview Parkway, Suite 111-312
Rowlett, TX 75088
214-703-8445
www.coaemsp.org
Medical Assisting Accreditation
The Carl Sandburg College Medical Assisting Certificate Program is accredited by the Commission on Accreditation of Allied Health Education Programs (www.caahep.org) upon the recommendation of Medical Assisting Education Review Board (MAERB).
Commission on Accreditation of Allied Health Education Programs
9355 - 113th St. N, #7709
Seminole, FL 33775
727-210-2350
www.caahep.org
Membership and Recognition
Carl Sandburg College is a member of American Association of Collegiate Registrars and Admissions Officers; American Association of Community Colleges; American Library Association; Arrowhead Athletic Conference; Association of College and Research Libraries; Association of Community College Trustees; Cisco Network Academy; College Placement Council; Consortium of Academic and Research Libraries in Illinois; Council for Advancement and Support of Education (CASE); Council for Opportunity in Education; Educational Opportunity Association; Illinois Association of College Admissions Counselors; Illinois Association of Collegiate Registrars and Admissions Officers; Illinois Community College Admissions and Records Officers Organization; Illinois Community College Faculty Association; Illinois Community College Student Activities Association; Illinois Community College Trustees Association; Illinois Consortium of International Studies and Programs; Illinois Council for Continuing Education and Training; Illinois Council of Community College Presidents; Illinois Library Association; Illinois Mathematics Association of Community Colleges; Illinois Community Colleges Online; Illinois Online Network; Illinois State Historical Society; Illinois TRIO; National Advising Association; National Association of Student Financial Aid Administrators (NASFAA); National Council for Continuing Education and Training; National Council for State Authorization Reciprocity Agreements; National Junior College Athletic Association; National League for Nursing; Network of Illinois Learning Resources in Community Colleges (NILRC); Online Computer Library Center; Reading Across Illinois Library Systems (RAILS).
Student Responsibility
All students are expected to familiarize themselves with the provisions of this Catalog. Enrollment at Carl Sandburg College implies an understanding and acceptance by the student of an obligation to abide by the academic, administrative and social regulations of the College. Failure to read and comply with college regulations does not exempt a student from such responsibility. Keep this catalog as a reference for graduation requirements in Associate Degree Programs and Certificates.
Any student who wishes to examine the policies of the College should see the Vice President of Student Services.
Nondiscrimination Statement
The College, an equal opportunity/affirmative action employer and educator, complies with all applicable federal, state, and/or local laws prohibiting discrimination. It is the policy of the College that no person shall be discriminated against in employment, educational programs and activities, or in admissions on the basis of race, color, religious affiliation, gender (sex), sexual orientation, gender identity or expression, national orientation, ancestry, genetic information, disability, age, arrest record status, marital or family status, citizenship status (with regard to employment), military status, unfavorable military discharge, sexual harassment, order of protection status and status in any group protected by applicable federal, state and/or local laws.
The College will direct individuals to resources for English language proficiency so that the lack of English proficiency will not be a barrier to future employment, admissions, and participation in CTE programs. Career and technical education courses/program offerings and admission criteria are on our website, www.sandburg.edu, or by calling 309.345.3500. Title IX Coordinator Michelle Johnson, 309.341.5258; ADA/Section 504 Coordinator: Stefanie Gillen, 309.341.5262.
The College reserves the right to change, without notice, any information in this catalog.
This catalog is for information purposes and does not constitute a contract.
Published by Carl Sandburg College
Galesburg, IL 61401
President's Message
Welcome to Carl Sandburg College and congratulations on taking this important step on your educational journey. Our faculty and staff are committed to making sure that you achieve your academic goals. Carl Sandburg College is ready to help you complete the first two years on the road to a baccalaureate degree anywhere in the nation, complete a certification or applied associates degree to get you started or help you advance in the career technical education or applied healthcare field, or just take some courses to explore a new interest.
Our staff and faculty are committed to helping you discover your talents and hone skills to make sure that you are ready for the next stage in your life journey. So, whether you are just trying out a class or two, focused on a career in health professions or manufacturing, or laying the solid foundation to transfer to any school in the nation, you have come to the right place.
Our student support services and our technology support are second to none, and we offer you the ability to take classes in a variety of modalities to meet your needs. This includes courses in a virtual environment with synchronous and asynchronous elements to help you balance work, life and school. Carl Sandburg College offers the complete college experience with many student clubs and organizations, opportunities to volunteer in the community, and excellent athletic teams. At Sandburg, we celebrate the academic achievements of our students and the artistic and scholarly efforts of our faculty and staff. We believe that anything is possible, but in the words of Carl Sandburg, "nothing happens unless first a dream." So, welcome to Carl Sandburg College, where we can help make your dreams a reality.
Dr. Seamus Reilly, President
Carl Sandburg College
Board of Trustees
Sandra L. Wood, Galesburg
Lee E. Johnson, Galesburg
DeVone Eurales, Galesburg
Gayla J. Pacheco, Galesburg
Thomas H. Colclasure, Galesburg
Bruce A. Lauerman, Galesburg
William C. Robinson, Galesburg
Jasmin McDaniel, Student Trustee ('22-'23 Academic Year)
Mollisa Kurz, Faculty Representative ('22-'23 Academic Year)
TBD, Staff Representative ('22-'23 Academic Year)
Cory Gall, Board Treasurer/Chief Financial Officer
Lindsey Huber, Secretary to the Board of Trustees
History
Carl Sandburg College is named for Pulitzer Prize-winning poet and Lincoln biographer Carl Sandburg, who was born and raised in Galesburg. The son of Swedish immigrant parents, Sandburg was born Jan. 6, 1878, in a small cottage near the rail yards where his father worked. The cottage, on Galesburg's south side, is preserved today as an Illinois historical site.
Sandburg published numerous volumes, including "Chicago Poems"; "Cornhuskers"; "Rootabaga Stories"; "The People, Yes"; "Abraham Lincoln: The Prairie Years and The War Years"; and "Always the Young Strangers." He received two Pulitzer Prizes - in history, for his "Abraham Lincoln: The War Years" (1939), and in poetry, for his "Collected Poems" (1951). The central theme throughout Sandburg's works is his belief in the essential goodness and drive of the common man and woman. His writing is full of optimism for the future of the human race.
Carl Sandburg and his mentor, Professor Philip Green Wright of Lombard College, also located in Galesburg, envisioned the establishment of "a People's Industrial College, where people of all ages would be taught, in addition to literature, philosophy, sociology, science, music, and art, something about industry and farming, such as agriculture, horticulture, bee culture, cabinet-making, metalworking, pottery, architecture, printing and publishing, and bookbinding." (From Margaret Sandburg's unpublished manuscript Biography of Carl Sandburg.) The two men felt that this "People's College" should be located by a river or on a lake.
Though Sandburg died in 1967, the College's ties with its namesake remain strong. In 1979, the late Helga Sandburg, Carl's youngest daughter, was awarded the College's first honorary associate degree. She returned to the campus in 1987, 1994 and in 2006 as the commencement speaker at graduation exercises. Additionally, Helga was a guest of honor at the annual community celebration, the Sandburg Days Festival, from its inception in 1996 to 2005. Both Helga and Penelope Niven, who was Sandburg's biographer, helped to formulate and develop the annual festival. Sadly, both Helga and Penelope passed away in 2014, leaving the College without two of the people most closely associated with its namesake.
The referendum creating what is now Carl Sandburg College was passed by the voters of Knox and Warren counties on Sept. 24, 1966. The first classes were held the same day the following year, Sept. 24, 1967, in a variety of facilities in downtown Galesburg. Since then the College has expanded considerably, both in the scope of course offerings and in territory, in an effort to meet the educational needs of the residents of west-central Illinois.
In 1969, the College occupied the site on South Lake Storey Road in Galesburg on which the permanent Main Campus would be constructed. The permanent facilities were opened in 1976. In the meantime, the College annexed 16 additional high school districts in 1974, which eventually resulted in the establishment of additional facilities to ensure the delivery of services for all residents of what is officially Illinois Community College District 518. What is now the Branch Campus in Carthage offered its first classes in the winter of 1974. The Main Campus has also undergone major recent renovations to keep Carl Sandburg College on the cutting edge of the technological revolution.
In 2017, the College for the fourth straight year was named National Champion in the Small Colleges Category of the Digital Community Colleges Survey by e.Republic's Center for Digital Education, continuing its reputation as one of the leading community colleges in the country for technology.
The College continues to serve its 3,000-square-mile district and fulfill its mission and vision and remain true to its core values for excellence, collaboration, integrity and respect.
District Map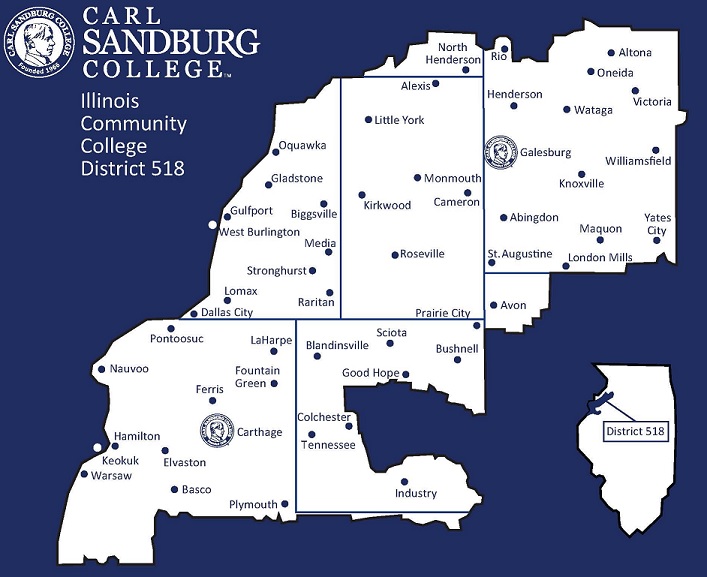 Mission Statement
The mission of Carl Sandburg College is to provide all students with opportunities for success.
Vision Statement
Where dreams come to life, and lives come to change.
Core Values
Excellence
Collaboration
Integrity
Respect
Educational Purposes
In its efforts to be a premier learning and teaching institution, Carl Sandburg College is dedicated to fulfilling the following major functions:
Provide associate degree-level education consisting of liberal arts, sciences, and pre-professional fields designed to prepare students for transfer to baccalaureate-granting institutions;
Provide business, technical, and professional education that offers associate degrees, certificates, courses, workshops, and seminars designed for career, entry-level employment, retraining, and/or upgrading of skills to meet current and emerging employment needs and trends;
Provide courses and programs designed to assist academically underprepared students to be successful in their next level of education;
Provide activities designed to meet the lifelong educational needs and interests of individuals throughout the district;
Provide services designed to meet the needs of the student population including recruitment, admissions, registration, assessment, counseling, tutoring, career planning, academic advisement, financial aid, job placement, co-curricular activities, and inter-collegiate athletics;
Provide programs and services designed to meet the customized continuing education and technical assistance needs of individuals, businesses, industries, and community organizations;
Serve as a center for cultural and intellectual development.
Carl Sandburg College Strategic Plan Outcomes and Strategies
A. Student Access and Success
Advance equitable access, engagement, and success of all students.

Provide institutional leadership that integrates inclusion in all aspects of the College.
Create avenues in which current and potential students can provide input on their needs.
Provide conducive environments for students that nurture engagement.
Facilitate a streamlined journey for the student that begins with recruiting and culminates in the student-determined successful completion.
Champion engagement with external partners and stakeholders.
Provide academic and co-curricular opportunities that facilitate inclusivity.

Implement strategies as determined by the students' voice.

Build student support structures that respond to individual students' needs while maintaining quality.
Advance connections between students and college personnel.

Increase the retention, persistence, and completion of an inclusive student body.

Expand efforts to attract a diverse student population.
Enable the student experience to flow seamlessly from recruitment through completion.
Create learning opportunities through community partnerships.
Expand efforts to provide financial support for students.

Increase direct communication with students and employees at all locations.

Embed ambassadorship into all college position responsibilities.
Initiate avenues that provide the sharing and accessibility of resources, new initiatives, and best practices of all departments.

Increase individualized attention for students.

Utilize Starfish to increase student engagement.
Broaden connections between students and all members of the college community.
B. Teaching and Learning
Enhance the quality of educational programs through assessment-driven continuous improvements.
Ensure fairness and equity in course delivery.
Leverage technology to enrich course content.
Drive student success with the assessment of General Education Outcomes.
Develop and cultivate industry-specific partnerships to ensure high-quality curricula.
Implement student experiences that result in greater opportunities for career exploration and employment.
C. Community Collaboration
Broaden dynamic connections with external stakeholders: students, alumni, K-12 programs, four-year colleges and universities, community members, and business partners.

Increase education opportunities using off-site/partner locations throughout the district.
Target communication efforts to increase external stakeholder awareness.

Assure programs of study provide a quality workforce for our district's communities.

Partner with employers, community members, and workforce-based organizations to foster innovation, meet workforce needs, and promote regional economic development.
Focus on a commitment to community education and enrichment.
D. Sustainability and Excellence
Promote an environment of understanding between the College and stakeholders.

Amplify institutional standards and practices to streamline internal and external communication.
Provide targeted and timely communication.
Expand information sharing practices.
Establish communication methods that promote the free exchange of ideas from stakeholders.

Attain an institutional culture of integrated problem-solving.

Develop an avenue to identify and discuss cross-departmental problems/issues.
Empower "problem-solving" teams to implement and assess continuous improvement efforts.
Advance the use of data in the institutional culture for decision-making.
Provide centralized access for data and student success strategies.

Strengthen human resource capital.

Administer a competitive compensation program that enables the College to attract and retain a quality workforce.
Execute strategies focused on employee retention.
Cultivate a commitment to inclusivity in hiring.

Assure the innovative use of resources.

Maintain a sustainable budget that fully meets the College's needs and responsibly uses the district's resources.
Obtain new grant funding and maintain ethical stewardship of grant money.
Maintain and refresh high-quality facilities and grounds that support innovation, teaching, and learning.
E. Culture of Continuous Learning and Development      
Ensure professional development and growth opportunities for college employees.

Promote professional growth and development opportunities that contribute to student success.
Support professional development opportunities focused on teaching and learning strategies, technology, course delivery methods, and assessment practices.
General Education Outcomes
General Education Outcomes, or GEOs, are the institution's educational outcomes: once students complete Sandburg, they will be articulate in communication, critical thinking, cultural diversity, information technology, and quantitative skills. Those GEOs are tied into learning objectives for every course taught at Carl Sandburg College and noted in the course syllabus.
Communication
Demonstrate proficiency in speaking, writing, reading and listening.
Critical Thinking
Demonstrate critical thinking skills and problem solving skills.
Cultural Diversity
Demonstrate an awareness of human values and diverse cultures.
Information Technology
Demonstrate understanding and skills to function in a technological society.
Quantitative Skills
Demonstrate use of quantitative analytical skills and processes to interpret, evaluate and solve problems.